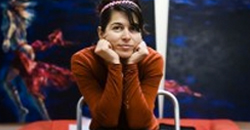 Irina's Romanian background, coupled with emotions, inspire the colors in her paintings. She fell in love with the deep reds, blues and gray's years ago. The colors are narcotic. They can take you back to the nostalgic Romanian heritage the second you lay your eyes on them. These are her favorite colors and she uses them in most of her fine art. You'll notice that most of her recent work has an under water theme. This is something that is very difficult to portray in art, and if done well enough, makes the painting extraordinary.
All of her paintings are of the highest quality medium and pigments. Which is why you see colors that you rarely see on any other canvas.
Please, enjoy her beautiful paintings and don't hesitate to contact her with any questions. She has only a limited number of original paintings available for purchase. If you're interested in acquiring one of them, please inquire.
If you'd like to be included in upcoming events, please use the newsletter box below to subscribe to the party mailer.